Experience Glacier Bar's Infrared Sauna Pod
Infrared Heat – Transform from the Inside Out…
INFRARED SAUNA – THE DIFFERENCE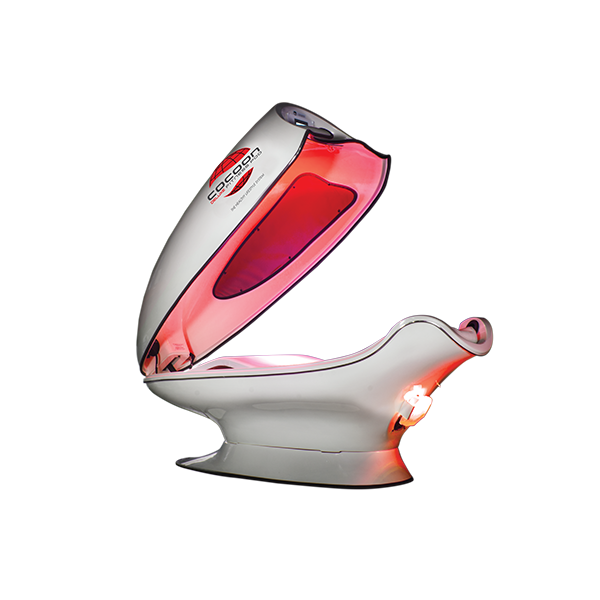 Developed in the 1970's by Japanese health practitioners, infrared saunas were designed for those who want to look and feel their best. Infrared offers the same health benefits as traditional saunas, but provides a gentle and soothing experience.
HEALTHY HEAT – BREATHABLE AIR
Traditional saunas heat the body from the outside-in, resulting in hot, often intolerable air. Infrared saunas heat the body from the inside-out, leaving the air pleasant and comfortable, allowing for a longer, more pleasant sweat.
Different Type of Sweat…
CLEAN SWEAT
Infrared heat kills 99% of bacteria, creating an inherently sterile environment. Relax your mind and rejuvenate your body in confidence.
COMPLETE BODY WELLNESS
Experience glowing beauty, cleansing immunity and more from the proactive benefits of a vibrant sweat. Sweating is an essential part of a balanced health and wellness routine. It's the heat that heals.
Major Benefits…
DETOX – Feel the difference of 7x the toxin cleanse from heating your body directly.
GLOW – Enhance your beauty, reduce wrinkles, cleanse your pores and renew skin elasticity.
PERFORM – Increase your endurance and build muscle naturally with the release of Human Growth Hormone (HGH).
RECOVER – Speed up injury recovery time from aches and pains to chronic conditions.
SLIM – Pump up your heart rate and melt away up to 600 calories per session.
VITALITY – Lower blood pressure and improve circulation for longevity and rejuvenation.
IMMUNITY – Easily increase core body temperature and eliminate toxins to create healthier cells.
RELAX – Let the pure heat of infrared relieve stress and improve feelings of happiness.
RELIEF – Help the body heal naturally. Reduce soreness of nerve endings and muscle spasms.
Prepare for Your Session…
Drink plenty of water before using the sauna. TO MAINTAIN HYDRATION DURING SESSION, BRING A BOTTLE OF WATER WITH YOU.
A sauna suit will be provided to you for your session. Wear loose fitting, comfortable clothing to your appointment.
Remove all jewelry or metals on the body to avoid unintentional burns.
Avoid the use of lotions, oils or spray tans prior to using the infrared sauna pod, as these products block pores and limit perspiration.
Warnings….
CONSULT YOUR PHYSICIAN BEFORE USE IF YOU ARE PREGNANT, IN POOR HEALTH, OR UNDER MEDICAL CARE.
DO NOT UTILIZE THE INFRARED SAUNA POD IF SUFFERING FROM ANY OF THE FOLLOWING CONDITIONS:
Open wounds
Eye diseases
Severe sunburns
Under the influence of drugs and/or alcohol
Dehydration
Serious illness of any type
Recent joint or muscle injury (within previous 48 hours)
Extreme menstruation
Heat stroke
Pricing…
Starting at
$55 Intro Single Session ( up to 60 min)
$60 Single Session (up to 60 min)
Packages and memberships available after introductory visit. Please email info@glacierbarcarmel.com or call 831-250-5874 for more information and to reserve an appointment.